Travel
ICOSAHOM 2018 will be held in the South Kensington campus of Imperial College London in the City & Guilds Building, lying in the heart of central London. Below are some brief notes on how to get to the venue; however more detailed instructions are available on the Imperial College website. Note that the main entrance to the City & Guilds building is located on Exhibition Road.
Getting to London
London is an easy destination to reach being a central international hub. All of the major airports, including Heathrow and Gatwick, have are nonstop connections from numerous international destinations across Europe, Asia and the Americas. Stansted and Luton airports are other options but with longer travel times to central London.
All of these airports have direct express train services to central London, through the Heathrow Express, Gatwick Express and Stansted Express. It is not recommended to take taxis from these airports since they are considerable distance from Imperial College: fares will be very expensive and travel times likely considerable due to heavy traffic.
Airport to London map<<
Travelling around London
London has an extensive range of efficient public transport options. The London Underground system has links to all major parts of central London, and there is an extensive bus network. Imperial College is therefore within around a 30-40 minute journey of most central London locations. For more information, consult the Travel for London (TfL) route planner, which can give detailed information on travel times between Imperial and other locations in London.
Getting to Imperial College
The South Kensington campus is Imperial's main campus and is easily accessed through the Underground. The closest station is South Kensington, which lies on the Picadilly, Circle and District lines and is around a 5 minute walk from central campus. From the station, either follow the subway signposted to the museums or walk north up Exhibition Road. The College is next to the Science Museum.
Please see the Imperial College website for information regarding bus and other routes to Imperial College.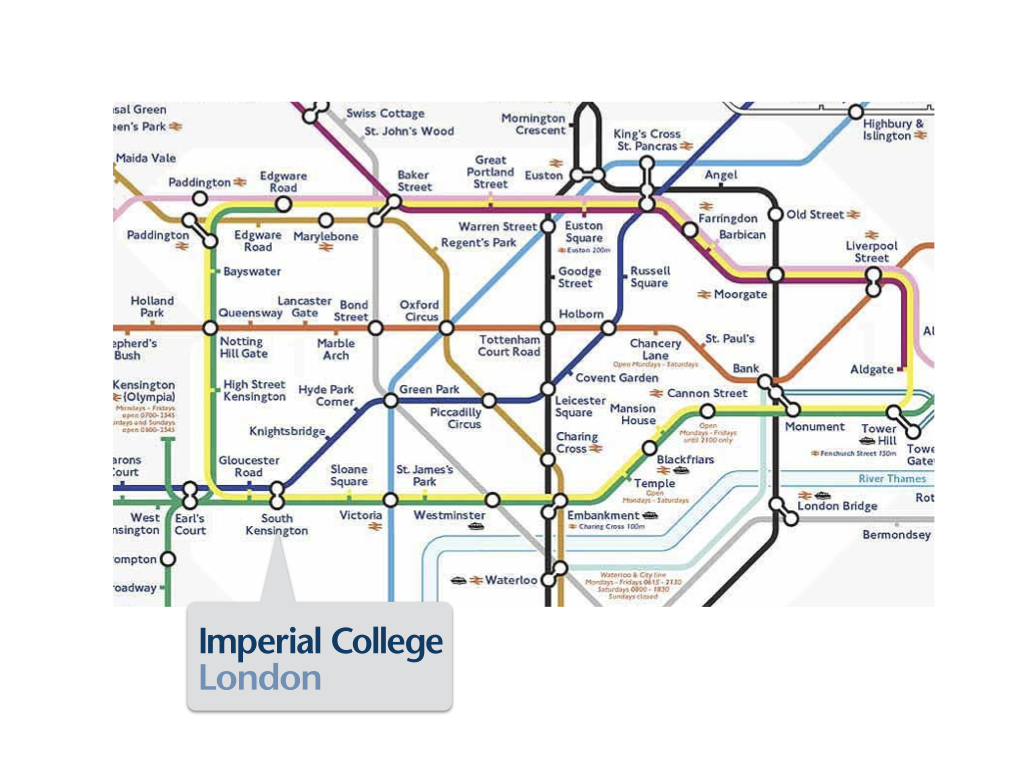 Tube to Imperial